Chapter:
Media
/
National Media
/ Turning Point

Focus -
online

Guest contribution from Bensheim
A Blessing for the Peace Memorial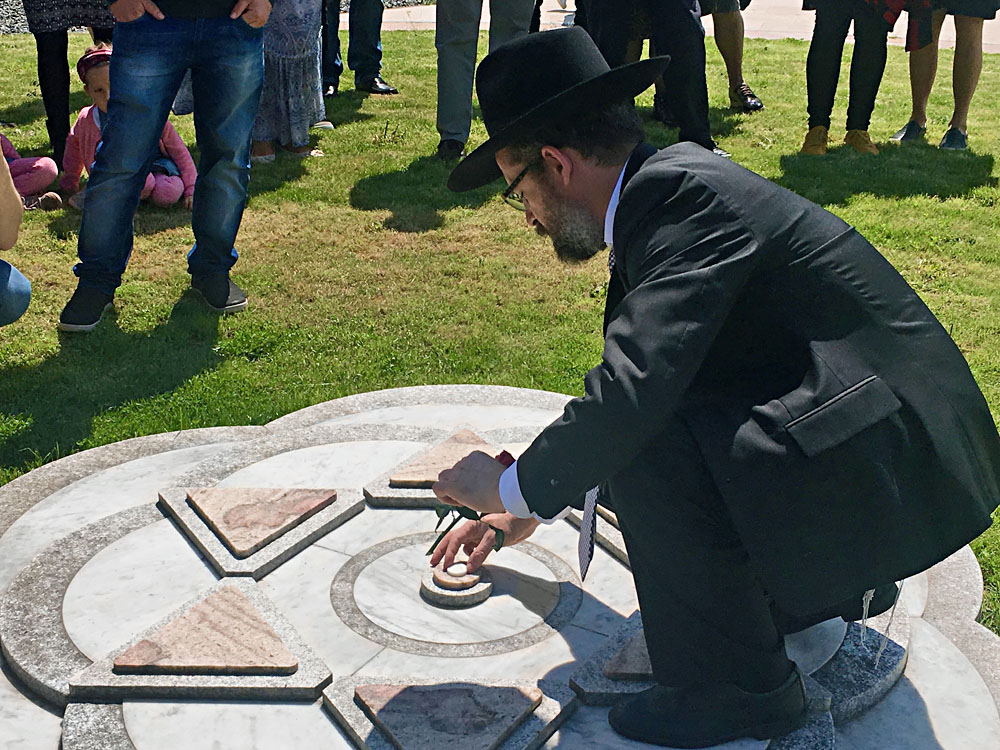 The insertion of the Turning Point in the middle of the Peace Memorial means a blessing for the German-Jewish relations.
On Sunday May 14, Rabbi Mordechai Mendelson sets the Turning Point with the inscription "live" - "Chai" in Hebrew - in the middle of the Blossom of Shalom. It's the center of the Peace Memorial.
The Rabbi and his Hasidic congregation made the trip from Karlsruhe. The completion of the center and the blessing of this place of peace and freedom happened in the context of a celebration of encounters. The congregation was on its way to Michelstadt and halted for three hours at the monument site in Bensheim-Hochstädten. The members of the congregation had the opportunity to exchange ideas with locals. Moreover, the architect of the monument site Thomas Zieringer explained in a guided tour the meaning of the place.

Zieringer considers this inauguration as a very important step forwards for the peace project and the true (quiet) highlight of all events that took place at this site for peace and freedom to date. The German bard Eloas Lachenmayr from Lake Constance offered a fitting musical accompaniment to the celebrations with his poetic songs. The visitors from Karlsruhe were inspired by the monument itself, its beauty, and the hospitality they encountered.


Completion of the film on the celebration
Directly after the inauguration, at 3 p.m., a great rain poured (which symbolises cleansing). Then, a full rainbow became visible from the
Jerusalem Friedensmal,
which stretched towards Jerusalem on the horizon. The
film of the celebration
(in German) is now finished and concludes with an image of the rainbow.

The film is made in a simple way, but just because of this it's nice and deep, if you want to pay attention to the subtleties. It is all very symbolic, just as words and pictures work together. For example, the songwriter Eloas Lachenmayr sings "sown with tears" (from Psalm 126) when the rabbi inserted the
Turning Point for Life
,
into the monument's center. Or have a look at how the rabbi's daughter sits on horseback and what music with lyrics there is to hear right at this moment.



Note: This press release of the Friedensmal Wendepunkt Association was published in Focus-online on June 9, 2017 (
source
).
---
Return to the overview: National Media